It's all about engagement: facilitating e-learning
published on
I've enrolled in the new TAE50211 Diploma of Training Design and Development, and once again am busy gathering evidence for RPL. Its a good opportunity to look back over a career and reflect on what I've done and the changes I've made both in direction and thinking. A key part of RPL, I think, is reflection so I plan to use the blog to do this in a more public way so I can gain further input from readers.
It's very difficult to tackle something that is your life, an integrated whole, in a segmented way i.e. unit by unit but I'll see how I go.
I guess my first point of reflection about the unit 'Facilitate E-learning' is the unit authors view of what 'learning' is. Most of my work over the past 15 years has been in a range of staff development roles, and by this I don't ONLY mean formalised training.
As educators we learn every day. We learn by reading, we learn by talking and debating, we learn by watching, and we learn through personal critical reflection. All of this can occur online and as a facilitator of learning for educators, my job has been to design spaces and guide processes to make that enjoyable, accessible, challenging and self sustaining. The goals have not changed over time. What HAS changed is the range of online spaces that allow individuals to create and drive their own connections with others.
Having lived and worked online for many years now, my first point of call was the web. If you Google your name what do you find? So, focusing on the online facilitation work I've done here's a list of the most significant:
1. In what must have been the mid 90s I obtained funding to establish a space for the Far Nth Coast adult literacy network. While the site now makes me cringe it was quite ground breaking. Facilitation in those days meant talking to people, gathering ideas/content/needs via email/phone and uploading it. I can remember a lot of discussion about the audience and ongoing review about the effectiveness of the content. We've come a long way :) We went on to trial MOOs and MUDs for learning and networking but the platforms were simply too complex for most teachers.
2. From 1998 - 2004 I worked in a few roles on the North Coast supporting the Community Colleges and in particular the ELLN staff and programs. For general management communication and collaboration we used Sharepoint. ITs primary use was sharing of files and conversation around key issues in between regional face to face meetings. I set up and co-facilitated the space. Clunky but reasonably effective.
3. Around this time some virtual meeting rooms started to appear. For the Community Colleges most were over-priced, but one iVocalize proved accessible and was used for a number of years and varied projects. In 2005 I was on the executive of the Australian Council for Adult Literacy and acquired funding for the Literacy Live project. WE used the platform to connect adult literacy practitioners around Australia. It was used for meetings and guest presentations which I facilitated. I was also involved in running awareness raising sessions at conferences and training sessions for State ELLN bodies including QCAL
4. An then into my role as LearnScope manager etc for the then Australian Flexible Learning Framework. While our roles were largely management ones we also provided a range of e-learning awareness sessions and online resource information. Sessions were facilitated in Elluminate and ADobe Connect, a blog was published covering news, events, info and help, and we started a wiki as an information hub. The Framework then used a range of discussion forums and there were some rather interesting challenges faced by the national team around flaming and aggressive posts and how to deal with these.
5. In the past few years I have designed and facilitated a range of blended staff development programs. Typically these included a Moodle hub for content and ongoing asynchronous conversation forums, with face to face workshops and follow up conversation via Moodle and email if required. The material used for these outside Moodle is all freely available online via my Slideshare account and my wiki
6. Most recently I've developed the Designing for Flexibility blended workforce development program for Sydney Institute. We have used a mix of F2F, wiki, Facebook group and online Adobe Connect sessions. I facilitated the 2011 trial which has since been reviewed, updated and mapped against TP units, and we're about to roll it out once again.
Each example has involved an ongoing process of review, evaluation and continuous improvement. In most cases this has involved a mix of informal feedback, team critical reflection, and the use of feedback surveys. In review the focus and emphasis will vary according to audience and purpose but typically will cover:
fit for purpose - applicability of content
accessibility - level of pitch and suitability of content for the level of skills
opportunities for engagement, feedback and ongoing networking and professional connections enabled
timing and access
suitability and effectiveness of the chosen platform or blend of strategies
follow up opportunities
Thankfully as technologies have progressed, and there has been a shift toward spaces that are increasingly easy to access and master, the interactive, collaborative element of learning and connecting online are becoming easier. It remains the case, however, that it is very very easy to teach (as opposed to facilitate) very very badly online. Whatever the platform, maximising engagement and focusing on business and learning needs is the imperative.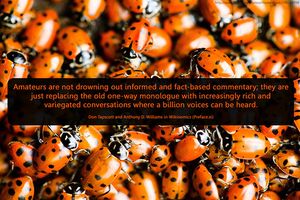 [CC FlickR image by Will Lion with acknowledgment also to Tapscott & Williams Wikinomics and Thomas Hawk]