what a difference a year makes!
published on
For three months during winter 2016 I worked to clear the eastern half of our land of snake weed. It'd be over an acre in size.
Previous owners had tackled the problem by slashing; hiding the top but strengthening the roots, and spreading seed. By slashing they also stopped all natives from regenerating and the result was a wasteland with only mature trees.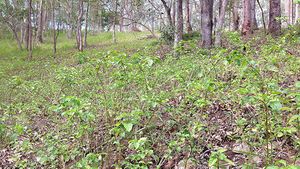 May 2016 snake weed
Three months of weed pulling left me with a nasty case of tendonitis but a first run over was done. In September I successfully applied for some 'Land for Wildlife' finding to plant 500 trees both here and in a cleared area near the house.
Since then we've had one of hottest and driest summers on record. It's been too hot to do anything much outside, and far too dry for planting. But now with 100 trees nearly planted by the house I wandered across the creek and up the hill today armed with stakes and flagging tape to plan what comes next.
A strip down the northern edge of block (maybe 15%) has definitely grown back and will need some serious weeding as I plant. The balance however is looking great. Grasses, sedges, ferns etc are doing really well. There's a very healthy scattering of Black Casuarinas (Allocasuarina littoralis) and quite a few eucalypts, wattles and other little native trees and shrubs starting to appear. Very exciting to see. With a few hundred more plants it'll start to feel like a forest again.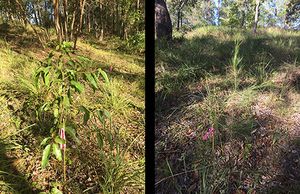 April 2017 native regrowth