How Society6 works
published on
It became apparent this week that people are unclear how Society6 and its pricing system works so this post will clarify things I hope.
All you need to use Society6 as an artist is an account and a verified PayPal account (this is so you can be paid); there are no other upfront costs or charges.
To post a new design you simply upload a high resolution file of the design. This file is used for your prints (unframed, framed, canvas) and is the basis for your store. You are offered an opportunity to determine your profit margin on these. All the work and the cost of the ink, and sometimes the postage is covered by Society6 and its partners.
Once you have uploaded this file, given it a description and at least one category it is published and available to the public.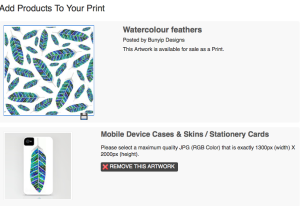 At this point, or at any point in the future, you can add products. There is a defined range of products on offer and artists can select which they would like to offer. The products come in clusters based on the file size/dimensions that are required. So if you select tote bags for example, and upload the appropriate file, you automatically also have cushion covers for sale, and if that file was high enough resolution shower curtains and doona covers also are available. I'll go into the files and file sizes in detail in a future post.
The price for each of these products is set by Society6. I typically receive around 10% of each sale which seems low but keep in mind that there is no risk (so long as the quality of the design is ok), and all costs and labour is covered their end.
When a sale occurs the 10% becomes available to me as credit after the end of the month.
Within Society6 there is a community of users; this goes for both artists and shoppers. You can follow an artist, favourite designs, and comment on a design. It's time consuming but I try to find some time each week to look around and give others feedback. Designs with lots of attention get pushed to the front for Society6 promos, website homepage etc (or at least I THINK) that's how they are selected.
So, it helps artists if, as a buyer, you log in and click that little heart if you like a design. It tells them what's working and helps them grow!